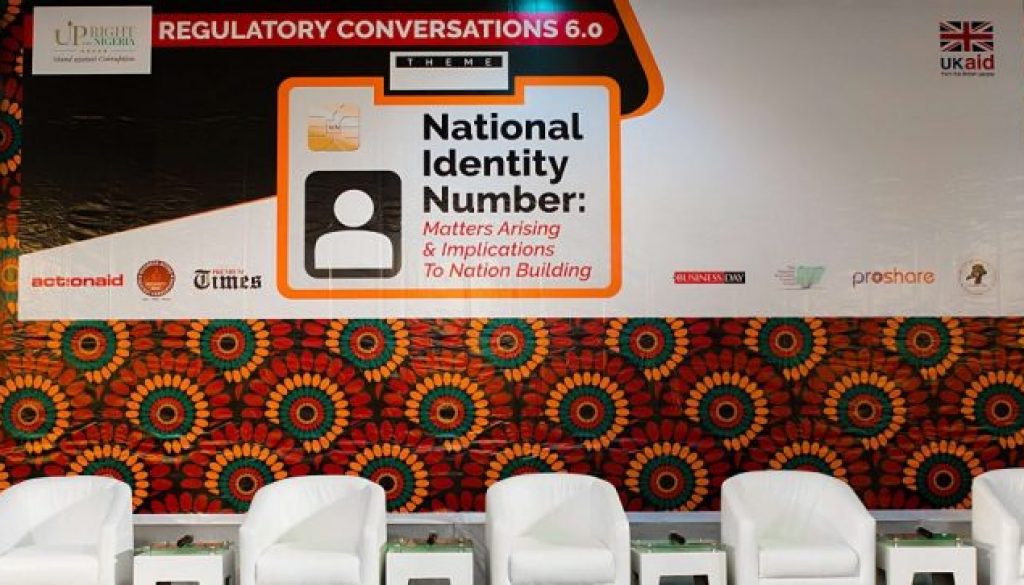 The Convention on Business Integrity, CBi, as part of its commitment to public policy engagement and driving the advocacy on building integrity in the business environment, hosted Regulatory Conversations 6.0 on 5th March, 2020 at Grand Banquet Hall of the Civic Centre, Victoria Island, Lagos.
The Conversation with the theme "National Identity Number: Matters Arising & Implications for Nation Building" attracted participants from Civil society organisations, the Private sector and agencies of Government and the media. The following organisations and Government Agencies also had representatives in attendance – the Chartered Institute of Bankers of Nigeria (CIBN); Institute of Directors (IOD); Manufacturers Association of Nigeria (MAN); the Bureau of Public Sector Reform (BPSR); National Drug Law Enforcement Agency (NDLEA); the Independent Corrupt Practices and Other Related Offences Commission (ICPC); the National Population Commission (NPC); the Federal Competition and Consumer Protection Commission (FCCPC).
Mr. Soji Apampa, the Chief Executive Officer of the CBi in his opening remarks, said the essence of the Regulatory Conversations 6.0 was to address the framework around the issuance of a national identity number to all Nigerians, which is perhaps one of the most essential and crucial initiatives managed by the federal government of Nigeria. The Regulatory Conversations 6.0 he added, provided the opportunity to consider the philosophy behind the implementation of the national identity number regulation, to ensure it does preserve the public interest not only as a laudable objective but also in the public policy choices being made to implement it.
The forum examined key sectoral issues in the context of the following viewpoints:
The regulatory framework and the national identity number system
The implementation of regulation on the Mandatory Use of the national identification number and the implications for the activities and business transactions carried out by individuals and corporate entities in Nigeria
Means of achieving the NIN with the support of the citizens