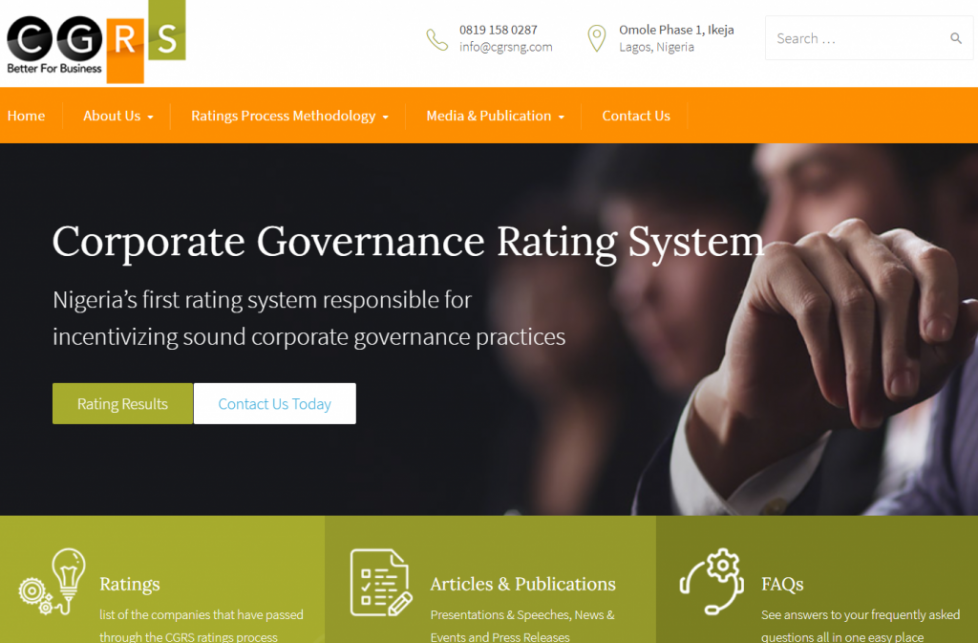 The Convention on Business Integrity (CBi) in partnership with The Nigerian Stock Exchange (NSE) established a Corporate Governance Rating System (CGRS) for listed companies in Nigeria.
Recent events in Nigeria's regulatory landscape such as the draft release of the Financial Reporting Council's unified code of corporate governance has generated debate about the effectiveness of stricter regulation in securing sound corporate behavior. Besides regulation, could there be a robust corporate governance system for Nigeria that will incorporate a number of other elements to ensure support for the objectives of regulation across all sectors? The answer is yes, we can and thankfully the Nigerian Stock Exchange (NSE) in partnership with the Convention on Business Integrity has developed such a system- The Corporate Governance Rating System (CGRS).
CGRS assesses companies on four dimensions; corporate integrity, compliance with NSE and general governance rules (SEC Code, CAMA with industry-specific rules added as relevant), a dimension reflecting certification of directors, and a dimension reflecting the confirmation of expert stakeholders of a company's integrity. The CGRS score is a composite of a score for corporate compliance assessment (50%), a Fiduciary Awareness Certification Testing (FACT) of directors (10%) and Corporate Integrity assessments based on feedback from stratified, random sample of stakeholders (20%) and an Expert Multi-Stakeholder Group (EMSG – 20%). The CGRS cover themes including Business Ethics & Anti-corruption, Internal & External Audit and Control, Shareholder & Stakeholder Rights, Board structure and Responsibilities, and Transparency and Disclosure.
CGRS is at its heart a mechanism for corporate control in that it makes it easier to distinguish poorly governed from well-governed companies on the Nigeria Stock Exchange. The CGRS hopes that the market would reward companies committed to good corporate governance and those with consistently poor behavior punished in return. Companies with already good corporate governance systems in place will be rewarded by receiving incentives for their performance including visibility to investors and lower risk premiums. For companies that want to improve or even embark on the journey towards good corporate governance practice, the CGRS sets clear goals and benchmarks to achieve a higher level of performance in order to ultimately enjoy the same incentives.
It is hoped that in time, the ratings will raise the corporate governance ceiling in Nigeria which will in turn reposition the idea that all Nigerian business are corrupt and lead to increased investor confidence and better performance in the Nigerian capital markets.
To leverage the results of the CGRS, the ratings have been used as part of the criteria for being listed on a new Premium Board that was launched by Nigerian Stock Exchange (NSE) in 2015. The Corporate Governance Rating System was successfully piloted with volunteer companies who were unveiled at the formal launch in November 2014. It was rolled out to all the listed companies in the course of the year, in 2015.