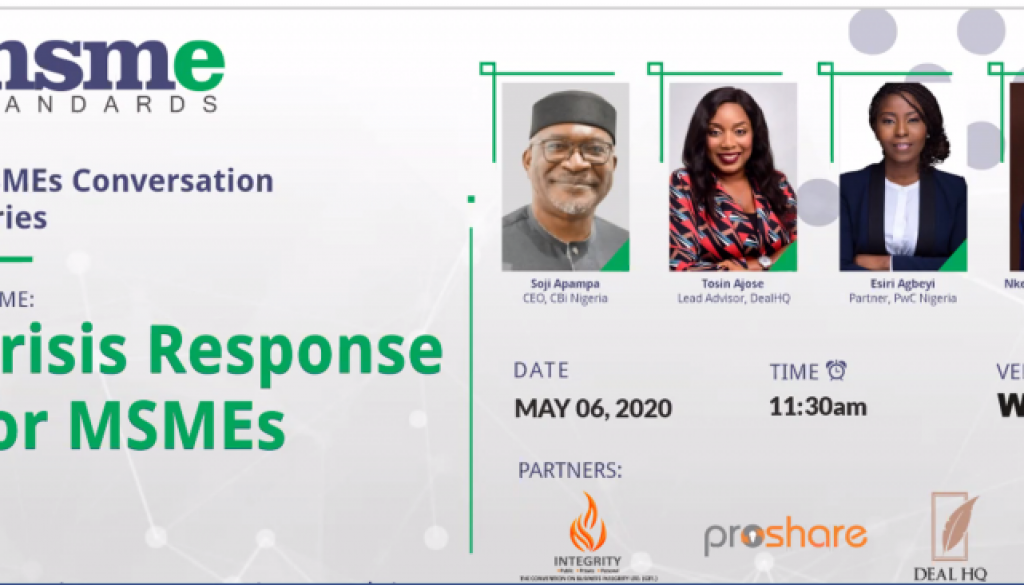 On Wednesday, May 06, 2020, the Convention on Business Integrity hosted the MSMEConversations Webinar focused on "Crisis Response for MSMEs" in partnership with Proshare and DealHQ. This is part of the initiatives of CBi Nigeria under its MSME Standards project.
With the current realities of the COVID-19 pandemic, the grappling uncertainties around the economy, business continuity, social welfare, contract performance and the inadequate technology infrastructure to deal with the myriad of issues that have been made more pronounced by the pandemic, ravaging not just the people but the structures and way of life as we knew it. In the midst of dealing with local issues and the more pressing global conversations that seeks to address appropriate business responses and strategies focused on crisis response for MSMEs who are undoubtedly one of the most hit by the pandemic, the Webinar was an opportunity for participants to gain insights from experts regarding what they can do differently to stay ahead.
The Crisis Response themed webinar moderated by Mr. Ayo Bankole Akintujoye, Strategy Expert & Convener, Lagos SME Bootcamp, had a robust blend of panelists from varying sectors of the Nigerian economy all of whom brought their wealth of experience to bare to address the issue of how MSMEs can ensure business continuity and sustenance. The discussants sought to highlight some of the prevailing issues MSMEs are struggling with at this time, which can be quite problematic post COVID19 if they are not addressed.
The conversation started by addressing how MSMEs can better position themselves to survive through the pandemic and beyond. It is no news that MSMEs account for a larger percentile of the Nigerian private sector. This raises the question of "what measures need to be put in place to mitigate the collapse of MSMEs as a viable contributor to the economy. Are there buffers in place to help cushion the effects of the pandemic on local businesses?"
Esiri Agbeyi, Partner, PwC Nigeria, while speaking about this, asserted that responses at this time need to be tailored and customized to the specific needs of individual MSME. She further noted the palliatives have been put in place by the government to alleviate the challenges faced by MSMEs such as additional costs and liquidity strains, though what has been done so far need to be improved upon. In addition, she explained that Communication, Collaboration and Customer Engagement geared towards identifying new income streams are strategies that can be adopted by businesses to enable them stay ahead.
Esiri further noted that just cutting cost could result in pain and may hamper growth, she thus advised business owners to look inwards and review their revenue and value lines, identify quick wins and build a robust strategy to pull through while remaining optimistic.
Speaking on how MSMEs can respond to contract performance and enforcement, Tosin Ajose, Lead Advisor, DealHQ, explained that a contract performance assessment is critical for any business at this time in order to determine the contracts to retain, suspend or terminate. She also expatiated on the difference between the principles of force majeure and frustration and how the court is likely to treat cases in this regard. She further advised business owners to be open and transparent with their customers regarding their ability to deliver on expectations and the measures taken to ensure service delivery.
According to Tosin, credibility is key and the likelihood of losing customers is high post covid19 if business owners are not transparent with their customers. She further emphasized that business owners should "avoid dispute or anything that will make them use the limited resources they have in hand on resolutions", while encouraging MSMEs to leverage on digital legal services but make use of a lawyer for high stake transactions.
Mr. Soji Apampa, CEO, CBi Nigeria, an avid MSME supporter spoke candidly of the need for the Government to get actively involved in the business of MSMEs. He proposed that professional anchors be used to enable MSMEs get access to funds and training that would enable them improve their structure and attain regulatory compliance. Mr. Apampa asserted that a credible and functional database will be appropriate to facilitate adequate and realistic planning in order to develop policies that would meet the needs of MSMEs.
According to Mr. Apampa, this is the time for MSMEs to rethink their business model from concept to cash; leverage shared services; ensure they meet up with the required operating standards in their sectors and inoculate themselves from the disruption. He further called for a sustainable approach to the management of the nation's foreign exchange through interventions in initiatives that would lead to increased productivity, while recommending that the government offer guarantees to financial institutions on behalf of organisations seeking loans in order to reduce the interest rate charged. He explained that there are many components considered by financial institutions when interest rates are fixed and the government can help reduce the impact of the risks identified by the financial institutions in order to encourage them to loan to the real sector at a lower rate.
On digital transformation which was a key area of interest during the webinar, Nkemdilim Begho, MD, Future Software spoke of the need for a National Digital Strategy adding that digital is the new normal. She asserted that infrastructure is key and the government needs to look into this in order to drive digital penetration. She also started that access to funds locally is critical for tech companies to scale.
Nkemdilim further explained that as MSMEs rush towards getting their business online or revamping existing platforms, it is necessary to invest in processes that would aid an increase in the trust level of their customers. Some of which are having a reliable platform and delivery network, ensuring products displayed online are in stock and payment confirmation is prompt. She further emphasized the need for customer service, investment in branding, digital marketing and proper documentation.
All the panelists agreed that leaders and business owners must be optimistic and act differently, by being responsive, communicable and visionary if they want to stay ahead.
On of the major highlights of the webinar, was a demonstration of how the MSMEStandards Platform can enable business owners access service providers as well as the necessary information needed to ensure their business is compliant and attractive to funders. Mr. Maduka Okafor, IT Manager, Integrity Organisation, who took this session explained that the platform is equipped with the COSO Standards tools which MSMEs can leverage on to structure their businesses and obtain the necessary standard operating requirements for their businesses.
To know more about MSMEStandards, kindly visit our website HERE or send an email to info@msmestandards.com. You can also connect with us on Twitter, Facebook, Instagram and LinkedIn.
To Watch the FULL VIDEO of the Webinar Click HERE