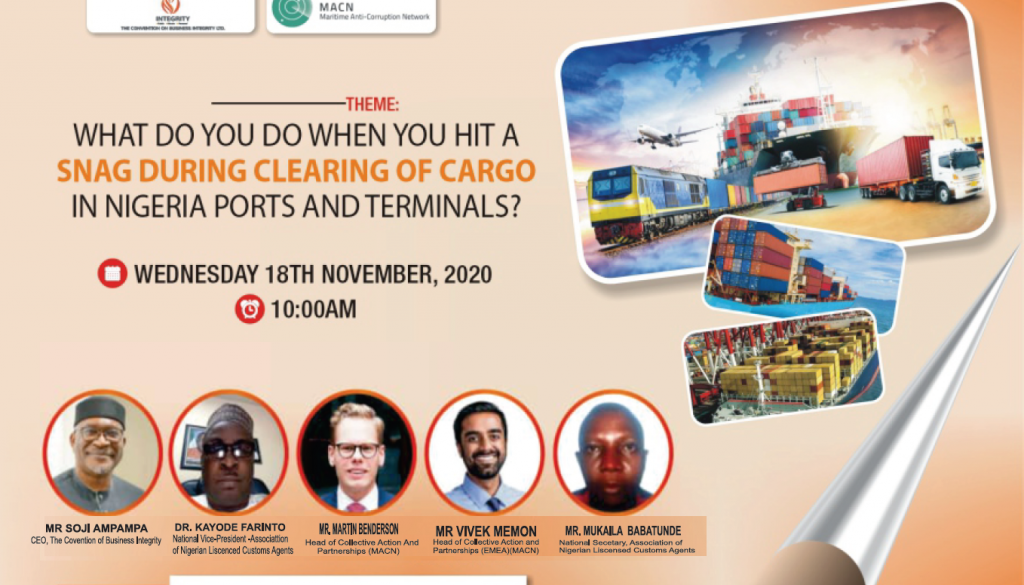 A number of Anti-corruption reforms and initiatives targeted at the Maritime sector has sprung up in the last 10 years globally and locally; yet, maritime stakeholders are still feeling the weight of the effects of corruption through port inefficiency largely caused by corruption, and are often at a loss on how to proceed when they encounter a snag in the cargo clearance process.
Many stakeholders are still faced with the challenge of knowing what to do when they get to crossroads in their interactions with representatives of the Maritime industry.
What do you do when you hit a snag during cargo clearance at a Nigerian port/terminal? The scheduled webinar, organized by the Convention on Business Integrity, in partnership with the Maritime Anti Corruption Network (MACN) will address these issues as well as others outlined below:
Provide a platform for Stakeholders to share their experiences from the different sectors of the Maritime sector
Provide a tool to document their experiences through the User Experience Diary
Provide a demo of how the user experience diary works
Populate the findings of the user experience diary and share with relevant authorities
Popularize the helpdesk and its benefits
Make the case for an Alliance group in the Private sector to monitor reforms in the Maritime sector
Details of the webinar on what to do when you hit a snag in cargo clearance at Nigerian ports/terminals are below:
Date: Wednesday, November 18, 2020
Time: 10am
About Us
The Maritime Anti-Corruption Network (MACN) is a global business network working toward its vision of a maritime industry free of corruption that enables fair trade to the benefit of society at large. MACN has become one of the preeminent examples of an industry-led collective action to eliminate corruption.
Website: www.maritime-acn.org Contact: macn@bsr.org
The Convention on Business Integrity (CBi) was established in 1997 as the private sector facing arm of the Integrity Organization, with the mission of promoting ethical business practices, transparency, and fair competition in the private and public sectors in Nigeria.