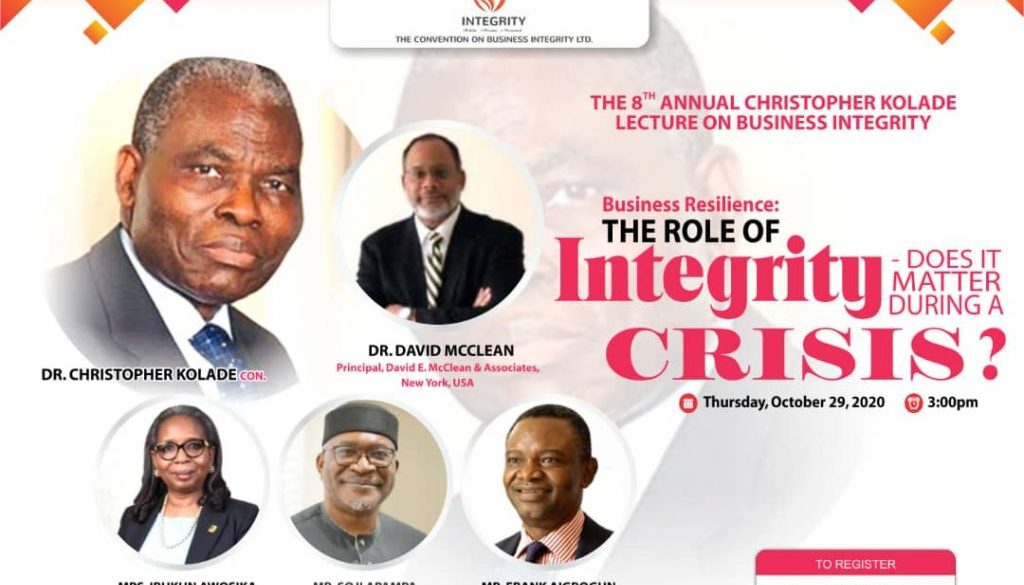 These. Are. Interesting. times.
Never has the world, at least not in recent times, witnessed such a huge disruption to our social and economic life. The COVID-19 pandemic brought the world to a standstill for a few months; dealt a huge blow to individuals and businesses all around the world. A major challenge has been how to navigate these interesting times whilst still holding on to our moral/ ethic strings.
There has been varied opinions on how Governments, Corporations and businesses around the world have reacted to the pandemic. Businesses and corporations all over the world have been impacted in varying degrees; some have collapsed under the burden of the huge costs incurred during the lockdown, most economies have been negatively affected, while some have had to re-strategize and seek for alternatives to remain afloat. People have become more vulnerable, and we could say to some extent that systems and institutions could have been compromised. Are the tenets of Business Integrity still applicable in the midst of a falling world? How can we sustain our values while staying afloat in times like this?
These are some of the questions our Keynote speaker and other distinguished speakers would be addressing during the 8th Annual Christopher Kolade Lecture on Business Integrity. The theme for this year's event is Business Resilience: The Role of Integrity and if it matters during a Pandemic.
The Annual Christopher Kolade lecture series in the past seven years has become an enviable platform that brings together professionals in business and Government. It provides an avenue for issues of Integrity in Business to be brought to the fore and discussed extensively. The lecture series has over the years addressed pertinent issues as it relates to Ethics & Governance in both the Private and Public sectors and sought proactive solutions to these issues.
The keynote speaker at this year's event is Dr. David McClean, a renowned speaker, writer and expert in Business Ethics and compliance in both academic and non-academic fields with his experience spanning over three decades. He is presently the principal, David E. McClean & Associates in New York, United States of America.
Other distinguished speakers on the panel are Mrs. Ibukun Awosika – Chairperson, First Bank of Nigeria, & Chairman, The Integrity Organization; Mr Frank Aigbogbun- Publisher, Business Day Newspaper and the honoree himself, Dr. Christopher Kolade CON. Mr. Soji Apampa, CEO- The Convention on Business Integrity/Integrity Organisation, would moderate the event.
We kindly request that you mark your diary accordingly as you plan to participate at this event.
Date: Thursday, October 29, 2020
Time: 3pm
Location: Online. Click the button below to register for the 8th Christopher Kolade Lecture.